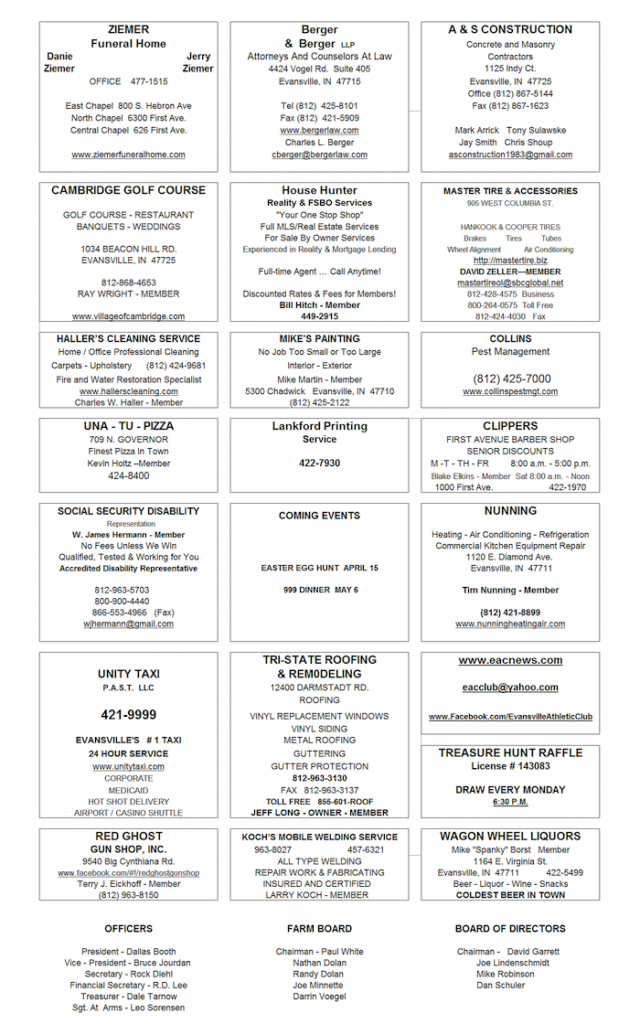 OCTOBER 2017
COMING EVENTS
October 18 ….……..………Free Feed
October 21 ……Work Party at the Farm
November 4….Friends of the Farm Party
November 11 …….Work Party at the Farm
November 18 ………..Work Party at the Farm
November 19 ………………………Turkey Shoot
December 3……..….….Children's Christmas Party
December 9….……..….………Adult Christmas Party
December 31…….……………….New Year's Eve Party
NEWSLETTER – WEBSITE
The website is still in the process of being updated.
We hope to be back on line by November.
More on that next month.
The newsletter will be mailed to all members for October, November and December.
If you have moved since you paid your dues it is up to you to get us the new address.
An easy way to do this is to e-mail the club. eacclub@yahoo,com
MONDAY NIGHTS
EAC TREASURE HUNT RAFFLE
MONDAY NIGHTS 6:30 P.M.
$1.00 PER TICKET
MEMBER AND WIFE/GIRLFRIEND ONLY
IF YOUR TICKET IS DRAWN OUT AND YOU ARE PRESENT YOU WIN 100%
IF NOT PRESENT YOU WIN 50% OF WHAT IS UNDER THE NUMBER ON BOARD
DRAW SCHEDULE
OCT 2    OCT 9   OCT 16    OCT 23    OCT 30
JACKPOT TOTAL TODAY
$1126.50
15th ANNUAL FRIENDS OF THE FARM
Make plans now to attend this get together at the Farm.
It will be on Saturday, November 4th and start around 5:00 P.M.
There will be soup, hot dogs, and fun for everyone.
Just bring an appetite, lawn chairs, and your own beverages.
Everyone is welcome. Family friendly event.
Come on out and have a good time.
GOLF
Results from 2017 Club Championship at Cambridge
Individual scores posted on Facebook
Overall Gross Club Champion Brian Wittenbraker 75
Overall Net Club Champion Ron Stahl 65
A Flight
1st Low Gross Brian Wittenbraker
1st Low Net Kurt Chapman
2nd Low Net Bill Wargel
3rd Low Net Jim Brady
B Flight
1st Low Gross Ron Stahl
1st Low Net Mike Reising
2nd Low Net Nate Sugerman
3rd Low Net Bill Reinhart
C Flight
1st Low Gross Kenny Meyer
1st Low Net Matt Nurrenbern
2nd Low Net Dale Tarnow
3rd Low Net Kyle Nurrenbern
D Flight
1st Low Gross James Sorensen
1st Low Net Earl Chapman
2nd Low Net Bill Purdue
3rd Low Net Richard Nurrenbern